SIGNIFICANCE OF................... VISHU...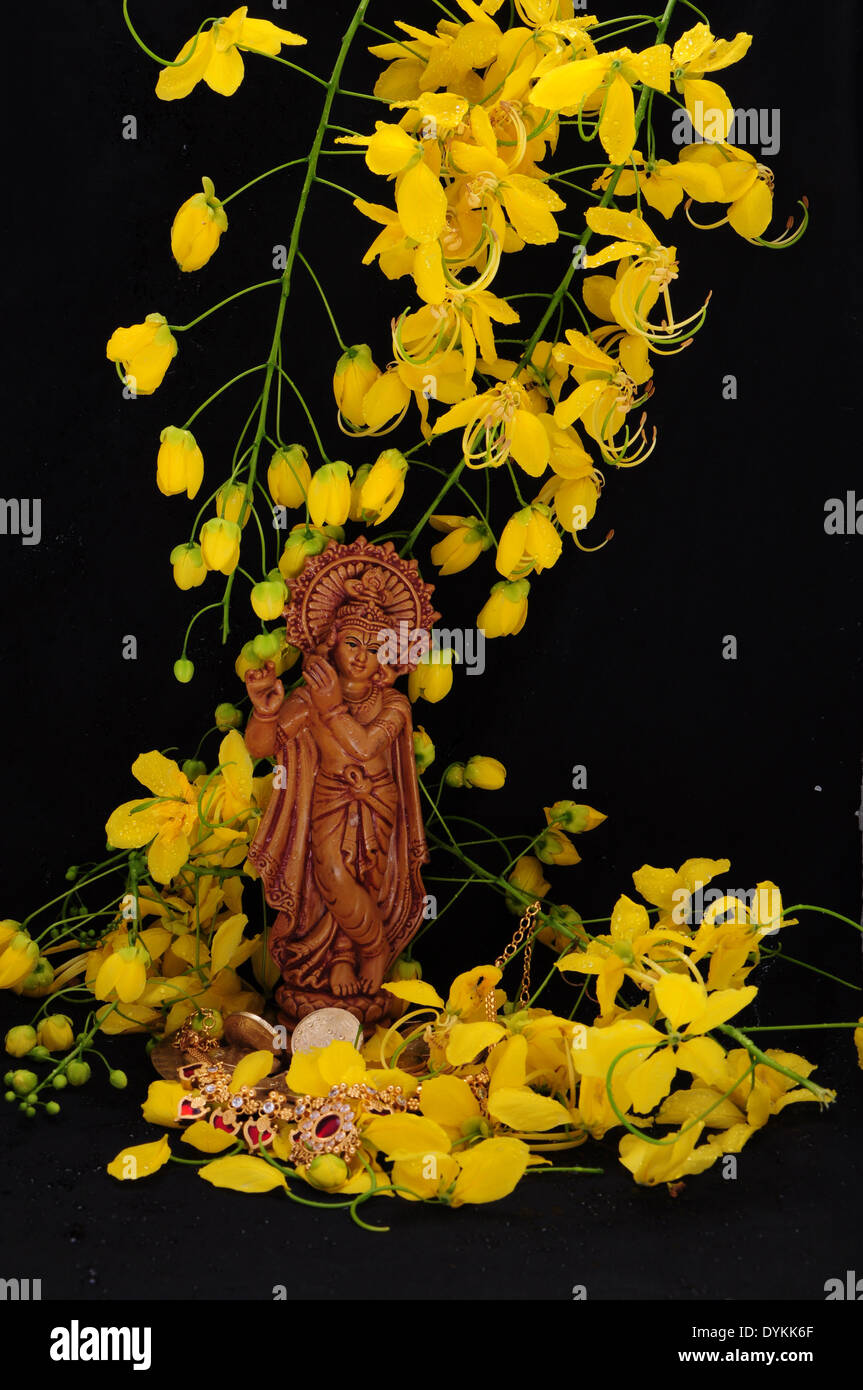 SIGNIFICANCE OF................... VISHU.
Image result for Kanikonna flower bunches imag
Vishu is derived from "Vishuvam" in Sanskrit and Malayalam, which means "equal". On the day of Vishu when the sun enters Medham rashi, the day is EQUAL to night. This means that the latitude of the place is the same as the declination of the sun. April 14th marks the new year in accordance with Kolla Varsham the Malayalam calendar. This occasion signifies the sun's transit into the Meda Rasi (first zodiac sign ) according to Indian astrological calculations, and represents the vernal equinox. Vishu marks the beginning of a new calendar year in Kerala. The principle behind the celebration of this festival lies in the fact that a good beginning paves the way to success. In fact, it is a day of supplication and surrender to that Supreme power we call God, without whose grace our limited faculties can achieve nothing.The two main rituals performed during Vishu are Vishukani and Vishukaineetam. Celebrations are majestic on Vishu. Bursting crackers, lighting lamps all over their houses, receiving blessings from the elders, greeting each others with sweets, new clothes and money to those younger than you, are the prime happenings during Vishu. People also wear kodi vastram (new clothes) on this day. Patassu (fire crackers) are burst in the midst of dancing and merry to mark the day.
The origin of Vishu is elusive and obscure as there is lack of literature regarding it. The customs and traditions slightly vary from region to region with in Kerala itself as per the local values and customs. This makes its even more confusing not to mention the change in the attitude and life style of the people. But one Interesting myth is related to the demon king Ravana.
Legend has it that the Navgrahas were controlled by Ravana during his reign of Lanka. He had Shani imprisoned. It is said that Ravana was not impressed with Surya rising from the east and the rays falling on his palace without his permission. Ravana saw the intense heat produced by Surya as arrogance. Ravan decided go in for a war with Surya.A scared Surya agreed to not to shine on the palace of Ravana. This caused lot of difficulties for the people in the region. Surya arrived late daily and this caused havoc in nature. Crops were damaged. There was scarcity of food. Then Sri Ram defeated Ravana in the epic battle and Surya started rising from the east on time. Ravana had never allowed the Sun to rise straight from the East and after Ravana's death it was on a Vishu day, that the Sun started to rise from the East.
It is believed that people celebrate Vishu in remembrance of Sri Ram defeating Ravana and Surya appearing on time. The story just shows the importance of Sun in the lives of human beings on earth.
"WE DON'T THINK TO BREATHE
WE BREATHE TO THINK"